ROCK TALK WITH MITCH LAFON: CHRIS JERICHO, EUROPE & THE BABYS
Rock Talk With Mitch Lafon is your source for extraordinary interviews with some of the best artists in the world of rock n' roll.
On this episode, wrestler, singer and all around good guy, CHRIS JERICHO discusses his band FOZZY's fantastic new album Judas, KISS and their work ethic, his upcoming Cruise, acting, The Jericho Network on PodcastOne and much more.
Our second interview is with EUROPE's Joey Tempest. He discusses the band's renaissance since 2004, their excellent new album Walk The Earth, a solo album, guitarist John Norum, North American touring plans and much more.
And we wrap up this episode with drummer Tony Brock of The Babys who discusses the band's new Timeless Anthology II album, working with Rod Stewart, producers Bob Ezrin and Ron Nevison, former vocalist John Waite and much more.
More on Mitch Lafon
Twitter: @mitchlafon
"Rock Talk with Mitch Lafon" – iTunes link
https://itunes.apple.com/us/podcast/id1218868456
"Rock Talk with Mitch Lafon" – PodcastOne link
www.podcastone.com/rock-talk-with-mitch-lafon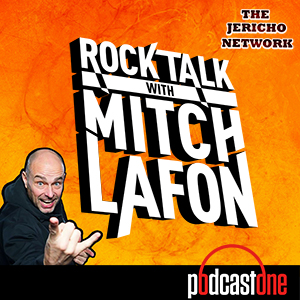 Facebook Comments