Northeast Rock Review Q & A with Up and Coming Rocker Jacob Cade
November 6, 2017
Every once in a while, a young, up and coming musical artist surfaces who captures the essence of 80's style rock, brought about in a modern way. An artist that we can see is capable of keeping up the tradition of Rock & Roll into the next generation. Up and coming rocker, Jacob Cade comes out with his recent video for the first single "What's Your Problem?!" off of his EP, The Hunger. Recently, Northeast Rock Review got a chance to fire off a few Q & A style questions with Jacob before he heads out on tour with Bobaflex along the East Coast, Northeast Region.
NERR: ​For those who may not be familiar with you​ and you​. ​Where are you from? How long have you been playing and singing?
JC: I was born in El Paso, Texas but raised in Parker, Colorado. Moved to Colorado when I was 6 and have been here for 13 yrs. I have been playing for about 9 years and singing for about 5 yrs.
NERR: At what point in your life did you know that you wanted to be a professional musician?
JC: I knew I would be a musician from the age of 8. That's when I first saw Jimmy Page in Song Remains the Same.
NERR: How did ​it​ all come about?​ When did things star coming together with your new EP and upcoming tour with Bobaflex?
JC: The EP started coming together at the end of 2016 when I was able to meet Michael Wagener. We recorded it in early 2017 and man that was the greatest experience I have ever had. Things with Bobaflex have been ramping up just in these last few months. I am jumping with excitement to go on tour with these guys.
NERR: ​​What are you most looking forward to​ heading out on the road​?
JC: I am most looking forward to being able to play every night to a new crowd and truly test my skills and learn and get better overall.
NERR: ​​Is this​ your first tour across the US.?
JC: This will be my first tour across the US. I have never embarked on a journey quite this big so I am itching to get it going.
NERR: You have many upcoming Northeast US. / New England tour dates. Have you ever been to this region before?​
JC: I have only ever been to one city that we will be playing in, which is Baltimore, Maryland. Other than that every city will be completely new to me. Which is an incredibly special thing to me.
NERR: Your new song "What's Your Problem", is a pretty good rockin' song. Very fresh new rock. It has a hard rocking sound with hints 80's / 90's style vibe. You wrote this with Rachel Bolan of Skid Row. Can you tell us how your relationship came about. And are a you a Skid Row inspired fan of their music? And favorite Skid Row song?
JC: My relationship with Rachel came about through Michael Wagener, who's worked with Rachel very closely. Michael set the writing session up while I would be in Nashville for about a week working with several co-writers (for example Lzzy Hale, Joe Hottinger and Paul Taylor along with Rachel) and everything seemed to work out perfectly. We came out with an amazing song and I am so thankful to be able to work with Rachel and Michael. I am most definitely a Skid Row fan. It was surreal for me to be able to say I wrote a song with Rachel Bolan. As far as favorite songs by them goes… I would say Get the F*** Out. haha.
NERR: ​Name three​ songs that might be found in your music listening collection today? Music that you listen to regularly?
JC: Pusher Love Girl – Justin Timberlake
Love Bites (but so do I) – Halestorm
Calling All My Lovelies – Bruno Mars
NERR: ​What was the first concert you ever attended?
JC: My first concert ever would be Ozzy Osbourne with Slash opening for him.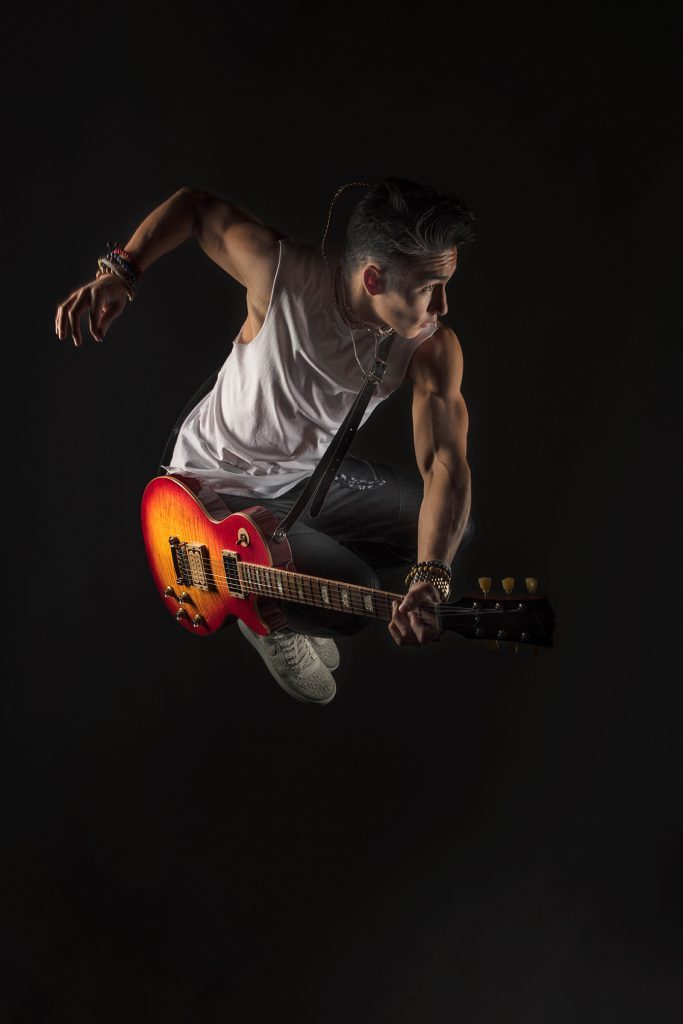 NERR: ​​Your favorite guitarist?
JC: Favorite guitarists of all time: Jimmy Page and Slash
NERR: Three bands/musicians that have inspired you to be where you are now?
JC: Slash
Bruno Mars
Led Zeppelin *but there are a million more
NERR: ​What ​do you consider the​ best era of music​ and why?​
JC: The 80's. That's where most of my favorite artists stem from. That era really launched music for me. Anything 80's and prior makes up all of my music library except for a few artists that are current.
NERR: What was your first album that you ever bought?
JC: The first album I ever bought was Appetite for Destruction by Guns n Roses
NERR: If you had the opportunity to take the stage with any musician, who would that be?
​JC: It would be either Slash or Lzzy Hale
​
NERR: ​Can you tell us one other talent, interest or hobby ​(non music related) ​that you have, that we might not know about?
JC: I am very interested in fashion. I love clothes… Most people who know me well understand my obsession with clothing and looking stylish is almost unmatched. So they tell me…
NERR: Thanks for taking the time to chat with us at Northeast Rock Review. Be sure to check out this new wave, next generation of Rock & Roll. See Jacob on tour with Bobaflex at the dates below. And visit his social media pages, like, follow and share.
11-24 Fri – Pittsburgh, PA – Diesel
11-25 Sat – Niagara Falls, NY – Evening Star
11-26 Sun – Pennellville, NY – Moniraes
12-01 Fri – Worcester, MA – The Cove Music Hall
12-02 Sat – Providence, RI – Jr's Fastlane
12-03 Sun – Brooklyn, NY – Goldsounds
12-06 Wed – Levittown, PA – The Red Room Club at McStews
12-07 Thu – Teaneck, NJ – Debonair Music Hall
12-08 Fri – Poughkeepsie, NY – The Chance
12-09 Sat – Baltimore, MD – Ottobar
12-10 Sun – Lynchburg, VA – Phase 2
12-13 Wed – Roanoke, VA – Q Pub
Facebook: facebook.com/jacobcaderocks
Twitter: twitter.com/jacobcaderocks
Instagram: instagram.com/jacobcaderocks
Facebook Comments