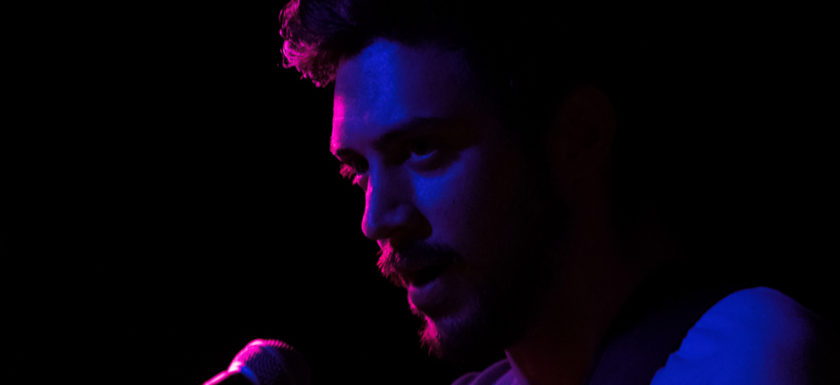 MO LOWDA AND THE HUMBLE
The Middle East Upstairs
Cambridge MA
April 5, 2018
It had been awhile since I have covered a show up in the Boston area, on April 5th that changed when I went to the Middle East Upstairs to catch an up and coming band out of Philadelphia, Mo Lowda and the Humble. What better way to spend a 50th birthday than with a couple hundred strangers packed in a dark venue, covering a show. Did I mention it was dark?
Mo Lowda and The Humble is a three piece alternative rock outfit from Philadelphia, currently touring in support of their brand new album "Creatures". Their third effort since getting together in 2010. Jordan Caiola is the singer and guitarist, Shane Woods on drums and rounding it out is Jeff Lucci on bass.
The Middle East Upstairs is a small venue which holds about 200 people and this evening it was a sold out show, with a surprisingly mixed cast of characters rounding out the audience. I was expecting that I would be oldest person, and at the very least expecting to feel like I was the oldest in the room. Although there were a lot of 20 somethings, there were quite a few my age or older also.
The night had started by the time I walked in the door, with a lone guitarist on stage playing, Dizzy Dames, I believe is what he was called, was working the crowd with a really relaxed and fun loving air about him.
Following Dizzy was a local Boston band called Motel Black, a four piece rock outfit that really started the crowds juices flowing. This is the first I had heard of them, but from some of the buzz of the crowd, not their first time. I am having a hard time describing exactly what type of music it is they play, but I could hear a Johnny Cash influence in it, I want to say Rockabilly, but I could be wrong. I probably am wrong.
The crowd had started getting thicker as it drew closer to Mo Lowda and the Humbles set time.
I am not much of listener of Alternative Rock, preferring to listen to music that as I have been told in the past, "It will rot your brain and send your soul to hell" but my tastes are eclectic and with an open mind and an addiction to concert photography, I was more than willing to give these guys a chance, after I had a Guinness.
As they took the stage bathed in green and purple lights, the crowd welcomed them enthusiastically and crowded towards to the stage. Jordan stepped up to the mic and started for lack of a better word crooning the first of the nights songs, as Jeff stood there rocking back and forth head down engrossed in or enthralled by the music they were playing. Shane was like a train, just going forward, driving, but then he is the drummer and isn't that what they are supposed to do? Keep it all on track?
Jordan's energy started to take control and he began moving around the stage when he wasn't singing. An energy that he seemed to be siphoning from the crowd as they swayed back and forth. This is a show that is a lot different then most I usually cover, no mosh pit, no crowd surfing. It was actually nice.
After a set that included most of their new album, the band came out and mingled with the fans, signing CDs, taking pictures and just hanging out. Thank you Jeff on the heads up on where to get a great Steak and Cheese the next time I am in Philly.
They are starting the Southern leg of their tour in North Carolina on April 12th, if your looking for a night out with good music, I recommend these guys when they are in your neck of the woods.
Thank you Kirsten, your the best, I appreciate the assistance you provided for this.
And on that note, I am going back to listening "Creatures", just something about the song "Shells" I like to hear.
Photos of Mo Lowda & The Humble at The Middle East
Photos & Review by Frank Piercy
For more, check out mowloada.com
Facebook Comments