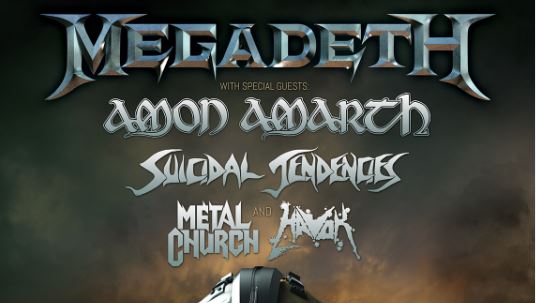 MEGADETH ANNOUNCES FALL DATES OF THE DYSTOPIA WORLD TOUR IN NORTH AMERICA STARTING SEPTEMBER 20, 2016
PLUS 'Post American World' Video Premiere
July 18, 2016
Megadeth Warns Of A Dystopian Future With The Global Premiere Of The Video For "Post American World"
Global metal pioneers MEGADETH
premiered their video for the new single "Post American World", along with complete details for the fall dates for the North American leg of their Dystopia
World Tour. The tour kicks off in Casper, WY on September 20, 2016 and will take them across the U.S., visiting 16 states with special guests to include Amon Amarth
, Suicidal Tendencies
, Metal Church
and Havok
.
Tickets go on sale to the general public on Friday, July 22 – check www.megadeth.com/tour for specific market info and local on sale times and dates. There will also be an exclusive pre-sale for MEGADETH fan club members. Pre-sale tickets for Megadeth Cyber Army club members will begin on Tuesday, July 19 at 10 a.m. local time at ‪http://cyberarmy.megadeth.com‬‬‬‬‬‬‬‬‬‬‬‬‬‬.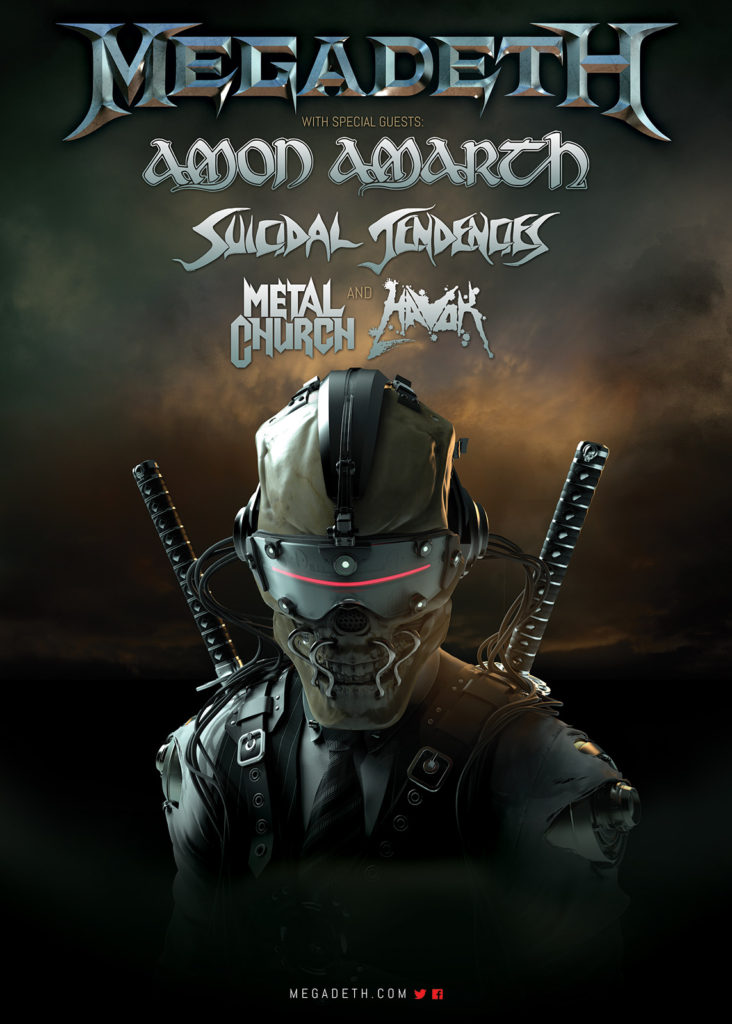 Meanwhile, the current single "Post American World" takes an unflinching and timely look at the state of the modern world, and the dark vision of the Jake Macpherson-directed video takes the subject matter in still more menacing directions. Most other artists are unwilling to tread in this territory, preferring veiled metaphors, or more often, completely ignoring the most important topics of our day. But with their current album Dystopia, MEGADETH refused to compromise their craft and identity, and as such have again set the pace for modern metal.
Dave Mustaine comments: "The filming of Post American World was an eerie video shoot right from the beginning. Shot in just one day with only our guitars and drums, I knew that this was going to be amazing. There is something to be said about the simplicity of an artist and only his guitar or drums. This is clearly a "less is more" concept and director Jake Macpherson nailed it!"
Watch the raw and uncensored video in its entirety:
http://news.usa-tomorrow.us/megadeth/p/1
Dystopia has already been heralded as one of the top Metal albums of the year by major outlets, including Rolling Stone and Alternative Press. The album's chart impact was the strongest for the band since 1992's Countdown To Extinction, debuting at No. 3 on the Billboard Top 200 chart (behind Adele and Beiber), No. 1 album on Billboard's Hard Music and Top Rock charts, and at No. 2 on Billboard's Top Album Sales chart. Globally, Dystopia also achieved top 10 debuts in Canada (No. 2), Japan (No. 2 international chart), Finland (No. 3), Mexico (No. 4), Czech Republic (No. 5), Australia (No. 6), New Zealand (No. 6), Switzerland (No. 7), Poland (No. 8) and Germany (No. 10), which along with Belgium, Ireland and Spain contributed to achieve MEGADETH's highest ever chart positions in their thirty year history in a total of 10 countries around the world. Other countries with significant sales or chart debuts included UK, Norway, Sweden, Italy, Netherlands, and France.
Go to www.megadeth.com/tour for ticketing info and up-to-date information.
SEPTEMBER
Sep 20 Casper Events Center – Casper, WY+
Sep 22 The Joint – Las Vegas, NV
Sep 24 Ozzfest Meets Knotfest @ San Manuel Amphitheater – Devore, CA * +
Sep 27 WaMu Theater – Seattle, WA
Sep 28 Matthew Knight Arena – Eugene, OR
Sep 29 City National Civic – San Jose, CA
OCTOBER
Oct 1 1st Bank Center – Broomfield, CO
Oct 3 Mid America Recreation & Conv. Complex – Council Bluffs, IA
Oct 4 Roy Wilkins Auditorium – St. Paul, MN
Oct 5 Sears Centre – Chicago, IL
Oct 7 iWireless Center – Moline, IL
Oct 8 UWM Panther Arena – Milwaukee, WI
Oct 9 Joe Louis Arena – Detroit, MI
Oct 11 Sands Event Center – Bethlehem, PA
Oct 12 DCU Center – Worcester, MA
Oct 13 Mohegan Sun Arena – Uncasville, CT
Oct 14 Prudential Center – Newark, NJ
Oct 16 BB&T Pavilion – Camden, NJ
* Festival date
+ Non-Suicidal Tendencies date
Facebook Comments