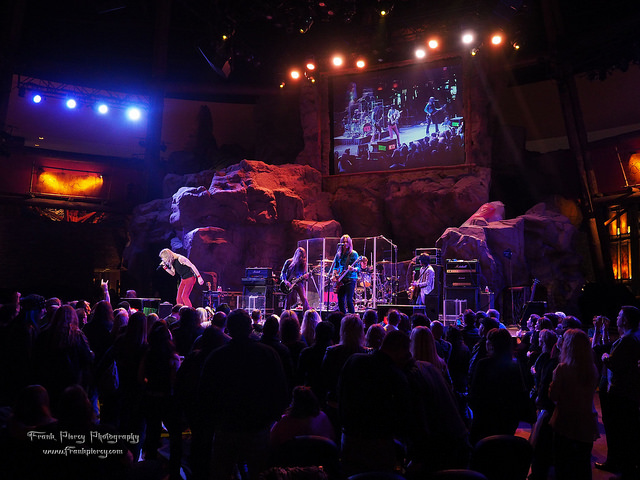 Photos & Review by Frank Piercy
April 10, 2015
During my teen years in the 80's, I learned about bands like, Motley Crue, W.A.S.P., Ratt, Quiet Riot, Accept and so many more. Every month I was picking up the music mags out at the time, Hit Parader, Circus, Creem, Rip.
One of the things each of these had in common was that like everything they had to sell ads raise money to cover the costs of printing them. Remember ripping the posters out the middle or cutting out the pages to hang on your wall. Well one of the things that sticks out in my mind were these little ads I would see in there probably 2 inches by 2 inches big. Different small independent record labels and bands trying to sell their records. We wont go into records for the younger people reading this, but those of you who grew up back then will. One I always saw was for a band called Kix. I was a kid living in the midwest then, and never had the money to send off for one, but when I turned 20 and moved to the East coast and started working it was a different story. Around that time Kix released an album titled "Blow My Fuse" I saw the video on Mtv and that was it. I went out and bought the album and have been a fan ever since.
I first saw Kix live back on their tour for that album, on My 21st birthday I got a tattoo and went and saw Brinty Fox, Kix and Ratt at the New Haven Coliseum. I was not disappointed at all. Fast Forward 26 years, almost to the day, Kix played at Mohegan Sun's Wolf Den. If you never have been there, the Wolf's Den is a small venue located inside the casino, which required 21+ admission. In August of 2014 Kix released their first studio album almost 20 years "Rock Your Face Off" and have been touring around the U.S. supporting it ever since then.
On this night Kix came out to the stage to "Can't Stop the Show" off of the new album and started kicking ass and taking names with this great show starter! Following that they went into "Sex" and "No Ring Around Rosie"
Kix singer, Steve Whiteman, really is a bundle of energy during the whole show, not slowing down at all. He is a classic front man who really can and does work the crowd.
"Your Gone" was next up on the bill, with one of my favorites following it "The Itch". Around this time he started talking about the new album and the signing coming up after the show, and took a CD from an audience member and showed it off asking if people remembered what they were, then went into another song off the new album "Wheels in Motion" and then another staple of their set "Cold Shower"."Mean Miss Adventure" and another of my favorites "Girl Money" were next, followed by their power ballad "Don't Close Your Eyes". OK that is also one of my favorites and I put the camera down and sang along at this point. Hard to shoot while singing or headbanging to the next one "Hot Wire", which was followed by "Love Me With Your Top Down" one of my favorite tunes on the new album.
Now it was time for another staple that brings the audience even more into the show. "Cold Blood" always a crowd favorite. Then the title track off of their biggest selling albums "Blow My Fuse" Then the night started to wind down. Another crowd favorite and setlist staple, and usually the song you hear and know the show is coming to end, "Midnight Dynamite".
I saw Kix for the first time 26 years ago and it was another 24 before I saw them again. They kick ass just as much now as they did then, between the music and the stage antics of Steve, it is just as entertaining now as it was then. The big difference between them and most of the other 80's bands out on the road now. Check out more Kix photos below:
Steve Whiteman, Vocals, Mark Schenker, Bass Jimmy "Chocolate" Chalfant, Drums, Brian "Damage" Forsythe, Guitar
Ronnie "10/10" Younkins, Guitar
With the exception of Mark Schenker, this is the original line up. Four of five of the original band members. One of the bands from the 80's that has managed to stick together and get out and perform the classic songs that the fans will come out to see. Today you might be lucky if one quarter of a touring band are original members. Alright that's my rant today! Be sure to see a KIX show at a city near you. Click here to see a list of current tour dates. Check out KIX's new album , "Rock Your Face Off" KIX official web page Follow KIX on Twitter @KIXtheband KIX Official Facebook If you enjoyed this article, share it along.
Follow Frank Piercy on Twitter at @2_piercy
Follow Northeast Metal Media on Twitter @NEMetalMedia
©2015 Northeast Metal Media / ®All Rights Reserved Photos by Frank Piercy Photography. All photographs are Copyright protected – Not for use without permission
Facebook Comments