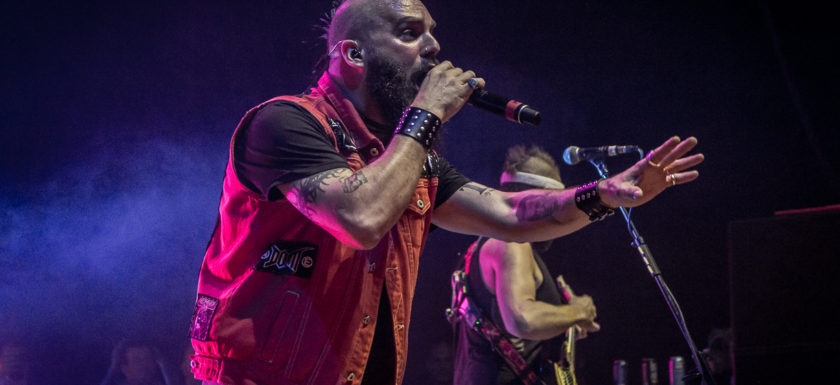 KILLSWITCH ENGAGE
Killthrax Tour
The Palladium
Worcester, Massachusetts
March 3, 2018
For Killswitch Engage it was a bit of a homecoming, as the western Massachusetts based band played to an incredibly electric, sold out crowd at The Palladium in Worcester. Havok and Anthrax started off the night time festivities. The crowed was revved up and ready to go for this hometown band. The crowd was already fired up from the Anthrax performance. Once the stage change happened and the Killswitch Engage backdrop appeared, the crowd erupted into a roar.
The band has seven studio albums to their name since they formed in 1999 in Westfield, Massachusetts. Killswitch Engage had been nominated for Best Metal Performance at the 47th Annual Grammy Awards in 2005.
AC/DC's "For Those About to Rock" came on, the lights went down. Killswitch Engage took the stage. Adam D. hit the stage with the and the stage was theirs. Jesse Leach, Joel Stroetzel and Mike D'Antonio covered every inch of that stage as they blasted out seventeen song set. The show kicked off with "Rose of Sharyn" and "Strength of Mind." Justin Foley, sitting at the back of the stage, made his five piece drum set sound like a nine piece kit. A powerful group of musicians. The crowd was loving it, mosh pit, crowd surfing, people flying every which way to the hardcore Killswitch Engage riffs. The night rounded off with "Holy Diver" (DIO), along with Anthrax's Joey Belladona.
Huge following for Killswitch Engage, especially at this home base performance. The Killthrax Tour was a great mix of new metalcore and classic thrash metal of the 80's with this powerful tour combination. Even though it was the conclusion of the Killthrax tour. Killswitch Engage has numerous dates lined up for the remainder of 2018 in the U.S. and overseas.
For more on Killswitch Engage, visit their Offical webpage for tourdates and more:http://www.killswitchengage.com
CHECK OUT THE PHOTOS HERE:
Photos by Dan Wenc at dmwpictures.com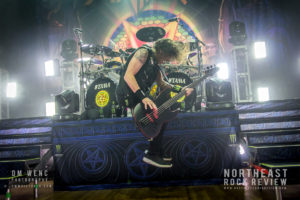 Facebook Comments