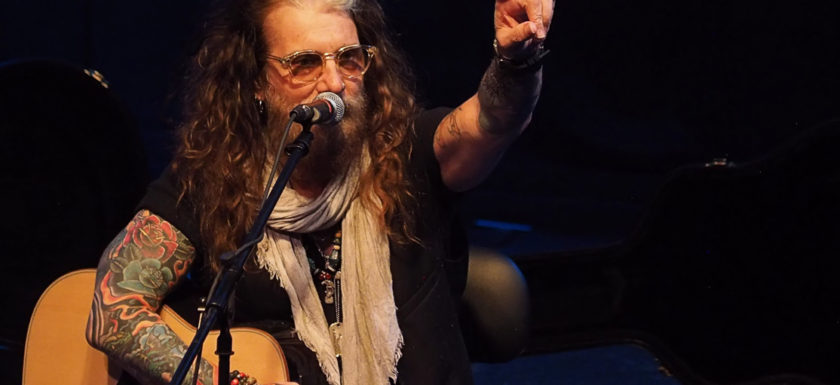 John Corabi
The Cannery Music Hall
Southbridge, Massachusetts
March 26, 2017
Just over the Connecticut border into Massachusetts is a nice little music venue named The Cannery Music Hall. A cozy little hall with a terrific staff and great lighting, I seem to be spending a lot of my lately north of the border, but it has been well worth it and this evening was no different.
John Corabi is the vocalist for the group "The Dead Daisies", which also includes other heavy hitters such as David Lowy, Doug Aldrich, Marco Mendoza, and Brian Tichy. Unfortunately, John is most known for his time as the voice of Motley Crue, after Vince left the band, and other bands such The Scream, and Union with Bruce Kulick.
While The Dead Daisies are between albums and touring, John has been crossing the good ol' U.S. of A., playing solo acoustic shows. From small bars, such as The River Rock Tavern in Derby,CT (nice place, good food, but kinda small for something like this and you should've been there the night of John's show, but that's another story for another time) to places like The Cannery (In my opinion probably the best place for an event like this) For a small ticket price, you get to spend the evening being regaled with some great music and terrific talk.
To warm up the crowd for John this evening, The Cannery brought in local boys, Tester. I was kinda surprised that they had a full on electric band start the evening off, but it worked. They played a handful of originals along with some covers, and they were well received by a crowd eagerly anticipating Johns set.
TESTER:
The good thing about acoustic shows, it doesn't take long to set up after the opening band, and John was on the stage prepping and ready to go only moments after Tester was done clearing the stage.
Sitting front and center with a guitar in his lap and a bottle of diet coke at his feet, John was ready to go, and away he went. Reaching into this bag of tricks, he pulled out gems like, Kiss's "Hard Luck Woman", David Bowie's "Lady Stardust" to Aerosmith's "Seasons of Wither", Thrown between The Dead Daisies and Motley Crue songs.
In between songs and sips of diet coke, it was like sitting in the living room listening to that uncle who always had the crazy stories of things he had seen or done while joking with everyone sitting there. You wouldn't think someone like him would be starstruck when meeting Steven Tyler, but you have to hear the story to enjoy it. This is a man not only blessed with a great voice but the gift of gab.
The night was amazing, and he was kind enough to hang around for awhile afterwards while sipping on a glass of Jameson, shaking hands and taking pictures with so many fans.
John still has a handful of dates over the next week or so, if he is in your neck of the woods and your looking for a nice relaxing evening with good music, go and see him.
JOHN CORABI:
Photos & Review by Frank Piercy
This evenings set list;
Love (I Don't Need It Anymore) (Union)
If I Never Get to Say Goodbye
Lady Stardust (David Bowie cover)
Father, Mother, Son (The Scream)
Something I Said (The Dead Daisies)
Hard Luck Woman (KISS)
Driftaway / Home Sweet Home (Mötley Crüe)
Robin's Song (Union)
Misunderstood(Mötley Crüe song)
Loveshine (Mötley Crüe)
Seasons of Wither (Aerosmith)
Maggie May (Rod Stewart)
With You & I (The Dead Daisies)
Man in the Moon (The Scream)
Hooligan's Holiday (Motley Crue)
Facebook Comments