JACOB CADE BRINGS THE ROCK N' ROLL PARTY WITH NEW SINGLE, TOUR WITH BOBAFLEX
November 2, 2017
There is a new name about to burst on the rock scene, that mixes the styles of Led Zeppelin and Guns N' Roses – and that name is Jacob Cade. "Energetic rock n' roll with a modern twist" is how this singer/guitarist/band leader from Colorado likes to describe his music. And from late November through early December, rock fans in the northeast will be able to get a glimpse of this talented performer, as he will be opening shows for Bobaflex.
"I am so stoked to be going on the road with Bobaflex," says Cade. "This will be the first experience for me being out and playing every night. I can't imagine how much fun I will have. Sort of a mini-dream come true! I'm jumping in circles right now. Fans should expect the band and I to come out and give it all we've got. It's going to be an energy filled, in your face, kick ass piece of entertainment. I guarantee whoever comes to see us will be mind blown."
Video for Cade's first single off The Hunger EP called "What's Your Problem?!" which he wrote with Rachel Bolan of Skid Row
Cade is working closely with legendary producer Michael Wagener (whose credits include working with the likes of Metallica, Dokken, King's X, etc.). Plans include issuing a string of singles, before offering up an EP that will be entitled 'Hunger,' with songwriting collaborations between Cade and such respected rock names as Paul Taylor from Winger, Lzzy Hale and Joe Hottinger from Halestorm, and Rachel Bolan from Skid Row.
The first song of Cade's to be released as a single will be "What's Your Problem ?!." "The song 'What's Your Problem ?!' is really an outcome of being fed up with people in the world that always have to find something about me that they have a problem with. Dedicated to all those people like me that feel like they are the outsiders and don't fit in. To which I say it's a special thing to be that way. Be yourself and live the life you wanna live. You'll find your people someday. Rachel and I both were able to bring out that emotion very well through this song."
Lastly, there is a simple reason why Cade feels his music stand out from the rest of the pack. "I believe it is different with what is coming out lately, and that's what makes it special and appealing." With the arrival of the single and live dates, rock fans will soon get to experience first-hand what is so appealing about this fast-rising star.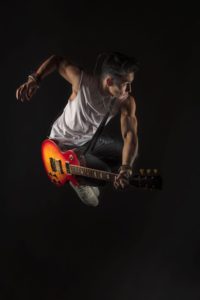 Jacob Cade opening up for BOBAFLEX dates:
11-24 Fri – Pittsburgh, PA – Diesel
11-25 Sat – Niagara Falls, NY – Evening Star
11-26 Sun – Pennellville, NY – Moniraes
12-01 Fri – Worcester, MA – The Cove Music Hall
12-02 Sat – Providence, RI – Jr's Fastlane
12-03 Sun – Brooklyn, NY – Goldsounds
12-06 Wed – Levittown, PA – The Red Room Club at McStews
12-07 Thu – Teaneck, NJ – Debonair Music Hall
12-08 Fri – Poughkeepsie, NY – The Chance
12-09 Sat – Baltimore, MD – Ottobar
12-10 Sun – Lynchburg, VA – Phase 2
12-13 Wed – Roanoke, VA – Q Pub
FOR MORE INFORMATION, PLEASE VISIT:
Facebook: facebook.com/jacobcaderocks
Twitter: twitter.com/jacobcaderocks
Instagram: instagram.com/jacobcaderocks
Facebook Comments