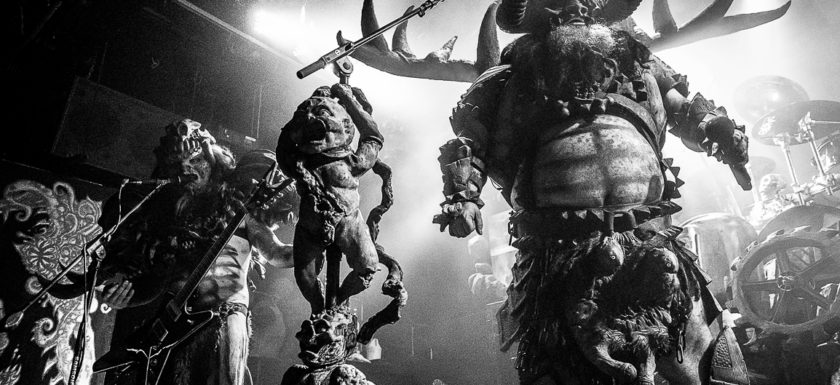 GWAR
Toad's Place
New Haven, Connecticut
October 27, 2017
Gwar was in New Haven again, and with it being the Friday before Halloween, I just had to be at this show. The thought of all the costumes at the show and the college kids walking the streets would be well worth the visit. I was not disappointed as Alex from A Clockwork Orange walked by me. A few zombies, a few other odds and ends also shuffled by or got in line to get into Toads.
The first band up that night was a band from Richmond Virginia, U.S. Bastards. A Heavy Metal trio that includes Brent Purgason on guitar and vocals, John Kelly on bass, and Jeremy Dutra on drums. Considering Brent also pulls double duty as lead guitarist for Gwar, I am not surprised they are opening for Gwar. I am surprised at how good they sounded and think they actually compliment the line up that night.
U.S. Bastards

Doyle of Misfits fame, was supposed to be the next act up on this really kick ass bill, but had unfortunately announced a couple of hours before the show, he wouldn't be playing this evening. Apparently he had injured an eye, and was having trouble seeing. The picture he posted looked nasty and I hope that he is doing better and the eye heals soon.
Next up was a band I was not at all familiar with, but was warned about by one of the other photographers there shooting this evening. Ghoul opened the night with a page right out of Gwars book. Characters coming out setting up the night and losing face. Ghoul is a 4 piece Thrash/Death Metal band consisting of Digestor on guitar and vocals, Dissector on guitar, Cremator on bass, Fermentor on drums. These guys were something else. Utilizing a story much like Gwar does, they include costumed characters and wear masks. Most importantly of all, they also spray fake blood out into the audience, all the while playing some pretty good metal. Sort of a Gwar lite visually, but definitely holding their own musically.
Ghoul

What can I say about the Scumdogs of the Universe???
Other then bring it on! As I staged myself in the photo pit before they started their set, I looked out into the audience. White t shirts everywhere, faces painted, costumes, and blood soaked people from Ghouls set. Toads was packed and a lot of people were ready to have their ear drums start bleeding.
As the lights went down and the crowd came back to life, the theatrics started as 2 uniformed characters came out on stage brandishing weapons and were soon dispatched by lead singer Blothar and another of the many costumed characters that graced the stage. Seeing all of this on that stage was amazing and I did not escape unscathed and am still a week later cleaning the blood off of my truck seat.
Gwar is an amazingly entertaining live band, where nothing is safe. Not current politics, not past politics, not even your wives, daughters and sons. They are currently out on tour until mid December supporting their latest album, "The Blood of Gods". They do a very limited number of VIP packages, I think 5 per venue, where you get the chance to be one of the people they kill on stage. Now that would be a great early Christmas present for your loved one.
GWAR

The night's set list consisted of, War on GWAR, Hail Genocide, I'll Be Your Monster, Death to Dickie Duncan, Saddam a Go-Go, Womb With a View, Crushed by the Cross, Viking Death Machine, Bring Back the Bomb, El Presidente, Swarm, Black and Huge, The Sordid Soliloquy of Sawborg Destructo, Mr. Perfect Intro, The Morality Squad, Fuck This Place, and then the Encore – Phantom Limb, If You Want Blood (You've Got It) (AC/DC cover)
Once again, Gwar destroyed Toad's Place and everyone loved it.
Facebook Comments