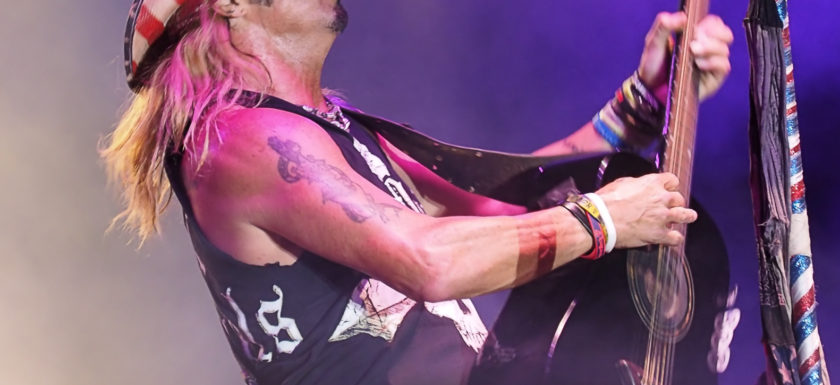 BRET MICHAELS
June 16, 2016
LaconiaFest
Laconia, New Hampshire
This time of year, Laconia New Hampshire, Weirs Beach to be more specific, hosts a motorcycle rally. The last 93 years bikers have gathered here to drink and show off their motorcycles. This year it also hosted the inaugural Laconiafest, a 9 nine day long music festival at Weirs Beach Drive In. Acts such as Buckcherry, Sebastian Bach, Steven Tyler, Bret Michaels, Ted Nugent and so many more local bands from New Hampshire and all over New England, were coming to play.
On the 6th day, they were having Bret Michaels, lead singer from 80s rock band Poison perform and that is what got me out of bed at 4 in the morning and start driving north. A long and grueling 4 hour drive into an area I haven't been in a long time. The bike rally is held all over town, but the spot to be and where they all park is right across the street from where I was going to be shooting a full day of music, Lake Ave on Lake Winnipesaukee. I didn't have time to dawdle so it was a quick look and then head to the Drive In, music was supposed to start at noon and I had to check in.
It was like being at a fair, walking up the street with vendors hawking everything from massages to cell phone chargers to bike week t shirts, then there was the food. Lobster rolls, pizza, BBQ, pulled pork, and then all the fair food, but I digress, I am here to tell you about the music not the food.
The music didn't start at noon as I was told, I am not sure why and I don't care why.
Around 2 or so in the afternoon, with a handful of people standing around waiting, soundcheck began for Bret Michaels. To our surprise, a few chords into it and Bret came out and started singing and playing. Chatting up the small group of people who were standing there awestruck, what a way to start an afternoon. After his soundcheck it was time for the music to start.
Starting the afternoon off was a New Hampshire band out of Manchester called "Eden's Lie" a hard rock outfit with a long history in New Hampshire and Vermont. A nice hard rock sound worth checking out. After about 15 minutes or so it was time for the next band.
"Sygnal To Noize" started setting up on stage and immediately drew my interest when a skeleton mic stand was brought unto stage. Great hard rock band with fantastic stage presence. What is it they are doing up there in Maine??? I can see these guys becoming more then a New England band.
The band having the misfortune to follow these guys is an outfit called "Impending Reflections" hailing from Rhode Island, this Rock group believe it or not is a couple of Dad's and Son's, and I thought taking my son to concerts was a bonding experience. I should've started a band with him…… nawwww I will spare the world of my singing.
In Vermont, there is a Motley Crue tribute band called "Shout At The Devil", actually with a woman doing vocals. I have to say she sounded great with a good stage presence. She nailed these songs better than you know who last time I saw him.
The crowd around the drive in was starting to grow now, finally more than a couple dozen people hanging out in the bright blue sun filled sky drive in. I remembered then why I hated being on a parade field during the summer.
From one female fronted band to another, with "Leaving Eden" out of Boston now filling out onto the stage. Nice voice, great backing band, always a good thing when a strong voiced woman takes to the hard rock scene. One of the few bands I actually bought a CD from over the day.
"Road Dawg" now these guys rocked, Fantastic sound and a good stage presence, I am not sure where they come from, but I believe it is Rhode Island, well at the very least somewhere around New England. I would like to see them again.
Japan… A band actually came here from Japan, Survive, a thrash band out of Japan brought a different sound to the stage. I think Loudness would've fit better, but they still sounded good and put a lot of energy into their set.
Now the fun started to begin.
LA Guns takes the stage, strong and loud! Phil Lewis's voice sounding no different than it did when I first saw them back in 89 opening for AC/DC. Steve Riley was a little more difficult to see being behind the drum on a stage that was almost 7 feet up off the ground, but the former W.A.S.P. and long standing LA Guns member did not miss a beat. Over the years there have been many changes on guitar and bass, but for the last couple of years it has been pretty steady with Kenny Kweens on bass and Michael Grant showing off on the guitar. I have been a fan of LA Guns since their first album and his playing is on par with Tracii Guns. Unfortunately, their set was cut after 4 songs.
Towards the end of the 80s, when grunge and the 90s were coming into being, a band from New Jersey called Trixter came along. Unfortunately grunge overshadowed their music, but, they have come back and they are one of those rare 80s era bands that have all the members still in it. They put on a good set, full of energy and looking like they were having a great time. The crowd had grown in size and sang along to their closing song "Give It To Me Good"
There is just something about shooting the Women of Rock. I am not going to bore you with her history, we all know what it is. She came onstage in her trademark red leather jacket with her red Warlock and proceeded to kick ass. Another performer who knows how to put together a great backing band, Marty O'Brien on Bass, Bobby Rock on drums, Pat Kennison on guitar. I think people came out to see her and Bret Michaels, and not really anyone else.
There was another band between Lita and Bret, a group that also became a victim of the growing grunge scene in the early 90s. It is common these days to see bands from the 80s and early 90s without all of their members, and sound like crap. Then you have bands like Trixter, bands who have kept it together and still sound great, Warrant sounds great, Robert Mason is the lead singer these days, well the last few years and fits in great with Erik Turner and Joey Allen on guitars, Steven Sweet on drums and Jerry Dixon on bass. These guys are always a treat to see, Robert has a stage presence that brings to mind the greats of the 70s. The enthusiasm between him and Joey drives the show. Of course they covered all the greats, "Dirty Rotten Filthy Stinkin Rich" "Down Boys", "I Saw Red" and closed out with "Cherry Pie"
Bret Michaels was the reason we were all here.
Poison's singer came out amid clouds of smoke and lasers with his band starting to tear the stage up. I wish I remembered their names, the only one I do is former Cinderella bassist, Eric Brittingham. Bret is another singer who has built himself a backing band that really kicks ass. I have repeated it many times, I love a band that is looking like it is having fun, constantly moving, constantly smiling, I feel it is contagious and the whole audience will be just as happy.
The show was amazing, with Bret playing a set of almost all Poison greatest hits, with a cover tune or two thrown in ("Sweet Home Alabama" with the roadies taking part, Sublime's "What I Got" and the encore "Rock n Roll All Nite"), "Talk Dirty to Me", "Look At What The Cat Dragged In", "Every Rose Has Its Thorn" and other Poison hits, I am kinda surprised that he didn't do any of his solo material.
The band was fantastic! His guitarist is amazing, the drummer definitely showed us why he has this gig during his solo. Eric…. I had never seen Cinderella live, so I can't compare to it to those days, but he was all over the stage.
At this point I called it a night and started the hour drive even further north to my hotel, because I was also there to shoot Ted Nugent!! That will be coming soon!
Check out the photos from Bret Michaels:
Facebook Comments