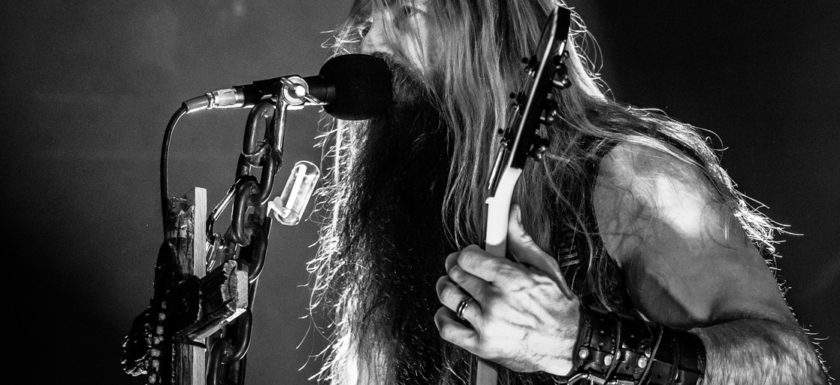 BLACK LABEL SOCIETY
with Corrosion of Conformity and Red Fang
Worcester Palladium, Worcester MA
February 1, 2018
For a Thursday night show, the Palladium was packed like sardines. I shouldn't have been surprised, we are talking Black Label Society. I can't remember a time when I went to one of their shows and it wasn't sold out or close to it.
The lineup for the night was one I was looking forward to. Opening for BLS were two bands, Red Fang and an old favorite, Corrosion of Conformity.
RED FANG

Red Fang is a band out of Portland Oregon, a stoner metal outfit consisting of Bryan Giles on guitar and vocals, Aaron Beam on bass and vocals, David Sullivan on lead guitar with John Sherman rounding out the quartet on drums. Stoner Metal? It is so difficult keeping up with all the genres out there these days. I was not familiar with them at first so did my research, various Youtube videos and asking my son. The music is good, kinda reminds me a bit of Clutch and their videos showed a humorous side that is fantastic. They put on a short set, with a lot of energy and the crowd enjoyed them also, tho not much crowd surfing.
They are currently supporting their latest album, "Only Ghosts".
Corrosion of Conformity, the first album I picked up by these guys was 1987's 'Technocracy". A nice piece of mid 80s punky thrash. As much as I love seeing these bands from my youth, I hate it. How did so many of these guys manage to keep their freakin hair??? Out on the road for the not even a month old new album, "No Cross, No Crown", Woody Weatherman is playing lead guitar, Mike Dean on bass, Reed Mullin on drums and of course, Pepper Keenan singing and playing rhythm guitar. The crowd welcomed them enthusiastically, people crushing forward and a few more crowd surfers and even more moshing in the crowd. Unfortunately a shorter set then I would have preferred to have heard, a 10 song set that seemed to leave off anything from their first two albums.
CORROSION OF CONFORMITY

Bottom Feeder (El que come abajo), The Luddite, Seven Days, Vote With a Bullet, Long Whip/Big America, Who's Got the Fire, 13 Angels, Broken Man, Albatross, Clean My Wounds
A good selection of tunes for a short set, especially when there seemed to be a lot of the younger crowd getting into their set.
Usually between sets, the crowd usually thins out a bit. People going to the merch booth or the bar even the restrooms, except for this show. The crowd got thicker and it seemed like the railing keeping the crowd out of the photo pit where I stood, was about to give.
That was when I realized, when the stage hands let the curtain down and they whisked it by me, I was on the wrong side of the pit and just missed the first 10 seconds of the set. The trials and tribulations of a concert photographer.
As I hustle forward to find a spot at the stage, I stop and shoot a few frames of bassist, John DeServio before turning my attention the Mane attraction, the whirling dervish of hair that was absolutely dominating the Wylde Audio Odin Grail Black BLS guitar (Some lucky bastard bought the guitar VIP package, its the only way to get that guitar, and if you're reading this drop me a line, I got some killer pics of Zakk playing your guitar) slowly I ambled through the crowded photo pit as 'Genocide Junkies" was being played and stood in front of guitarist Dario Lorina, who had staked a very solid claim to his side of the stage and behind them all was drummer Jeff Fabb.
"Funeral Bell" was the next song up and the energy did not slow down at all, I must be getting old, by this point I was beat just trying to keep up and do my job, but the crowd was loving every minute of it. Not as many crowd surfers as i have seen at other Palladium shows but the crowds energy was definitely feeding into just a tiny bit of a mosh pit.
OK maybe it wasn't so tiny…
As the opening strains of "Suffering Overdue" blasted out of the amps, I worked my way out of the photo pit and mingled with the crowd, a mix of all types and kinds. Old 80's throwbacks like myself, to young mom and dads exposing their 5 or 6 year old kid to their first concert. As I hung off to the side just past the photopits security detail, Zakk led his merry men into a crowd favorite "Bleed for Me" the first of many crowd sing alongs for the evening. "Heart of Darkness" was the next song up followed by one of my favorites, "Suicide Messiah" and yes I sang along. Then a taste of the new stuff with "Trampled Down Below", "All That Once Shined", and "Room of Nightmares" of the newly released "Grimmest Hits".
Things slowed down a bit with "Bridge to Cross" and "In This River" and "The Blessed Hellride". Zakk Wylde can play stripped down, just as well as he can plugged in. Absolutely amazing.
And the perfect song to kick it back up a notch before sending the kiddies home?
"Fire it Up"
Followed by "Concrete Jungle" and the last of the sing alongs for the night, "Stillborn".
It was back in 1988, I believe, when Zakk landed in the land of Oz. Its now 30 years later, 2 solo albums, 10 BLS albums and what 5 Ozzy Osbourne albums? He is still kicking ass and putting on a good show. Not many shows left in the U.S. before Black Label Society heads overseas for a bit. Go out and see them play!
BLACK LABEL SOCIETY

Facebook Comments