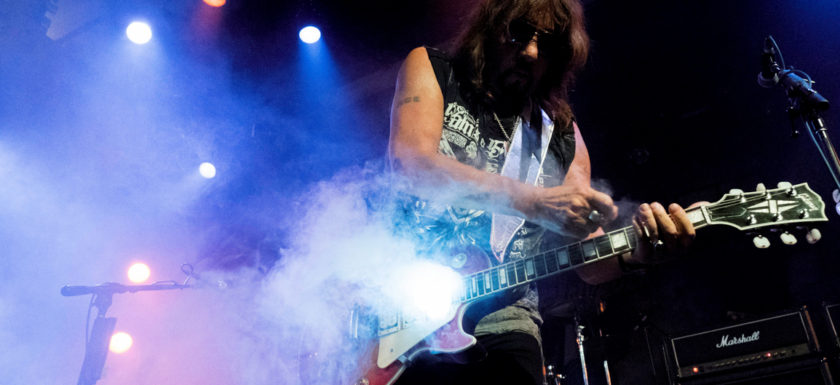 Ace Frehley
The Chance Theatre
Poughkeepsie NY
September 15, 2017
There is no better way to spend a friday night then to go and catch a rock show, and when the musician you're going to go see is the former guitarist of "The Hottest Band In The Land" you know it is going to be loud and it is going to kick ass.
Dark Sky Choir
Ace Frehley was playing The Chance Theatre in Poughkeepsie NY and opening for him was another band I am a fan of, Four by Fate. You see Four By Fate is a super group, you have Rob Affuso on drums, formerly of Skid Row, Pat Gasperini on guitar, formerly of Pound and Jon Regan on bass and Tod Howarth on vocals and guitar, both of those gentlemen have very impressive resumes, which the one band that they both played in, included the very gentleman headlining that night, Frehley's Comet.
Four by Fate
Rumour had it that something very special was going to happen that night, and a lot of people were hoping it was true and I am sure that contributed to the capacity crowd.
The crowd started showing up an hour before the doors opened, which gave the opening band, Dark Sky Choir, something a lot of opening bands here at the Chance don't get, a large audience. Dark Sky Choir is another band full of veteran's, lead singer is Hollywood How, guitarist is Fred Gorhau, who has also played with Wizards of Winter (which is why I thought he looked familiar lol), Joe Stabile is the bassist, who among other bands has been part of Lords of Mercy. These guys are held together by drummer Mike Sakowski. A great sounding band, would love to see them again.
Four By Fate was up next and you could feel the energy and the excitement from the crowd. The anticipation was felt by everyone. Jon Regan, as usual, hung back near the amps with a "cat who ate the canary" grin on his face the whole set. Tod Howarth was full of energy, running between the keyboards and the mid stage mic, all the while not missing a note. Pat Gasperini is an amazing guitarist. It's amazing the amount of talent in this part of NY.
Ace Frehley
The mere mention of this name and people think of the classic "Space Ace" from the 70's Kiss era. Silver and white face paint and platform boots and a guitar that spews smoke. The one thing that is for sure, people were here to see a legend.
The night started off with the Kiss song "Parasite" and then into a couple of Ace's solo songs, "Toys" and "Rip it Out". Next up to bat was a song off his latst album, "Origins Vol.1", "Emerald" by Thin Lizzy, which he dedicated to Phil Lynott. Returning to his Kiss roots, "Love Gun" was next, sung by drummer Scotty Coogan, then vocal duties went back to Ace for "Rocket Ride". The whole time Ace is playing and singing, walking back and forth on the stage, you have guitarist Richie Scarlet, all over the place, slapping hands, throwing picks, jumping. Really putting on one hell of a show.
"Sister" was the next song to be played and it segued into an amazing bass solo by Chris Wyse. Who was also working the crowd like a fiend. "Strange Ways" and "New York Groove" followed. The next song was dedicated to the memory of Kiss's former drummer, Eric Carr. "2 Young 2 Die." There are a couple of songs that most Ace fans cant wait to see him perform live, and the next song is one of them. Written about a time when he was nearly electrocuted while playing a show with Kiss in the 70's, "Shock Me" brings with it one of the most anticipated guitar solo's around.
C'mon who doesn't love it when that guitar starts spewing smoke!!
Ace took center stage afterwards and brought some old friends up onstage with him, it was happening!!! A Frehley's Comet reunion as Jon Regan and Tod Howarth took the stage and Ace intro-ed "Rock Soldiers" Memories of 30 years ago at the West Hartford Ballroom came flooding back to my mind when I first saw these guys on stage and last time I saw this line up onstage together. They sound just as good as they did then. The fun continued as they were joined onstage by Pat Gasperini and the all star cast continued with one of the songs that Ace wrote for Kiss, "Cold Gin". The energy on stage was amazing, and seeing the reactions of the crowd and the smiles onstage, it was truly a one of a kind night.
As Ace and his band of merry men came back out on stage for the encore, they started into "Detroit Rock City" and according to the set list, "Duece", but to be honest, I do not remember them playing that song. If anyone does remember, please let me know.
All in all, it was a great night, a historic night. All three bands played very well and the reception from the crowd when Tod and Jon took the stage, amazing. I know its hoping for alot, but maybe, just maybe we can see another Frehley's Comet Reunion in the future.
Facebook Comments