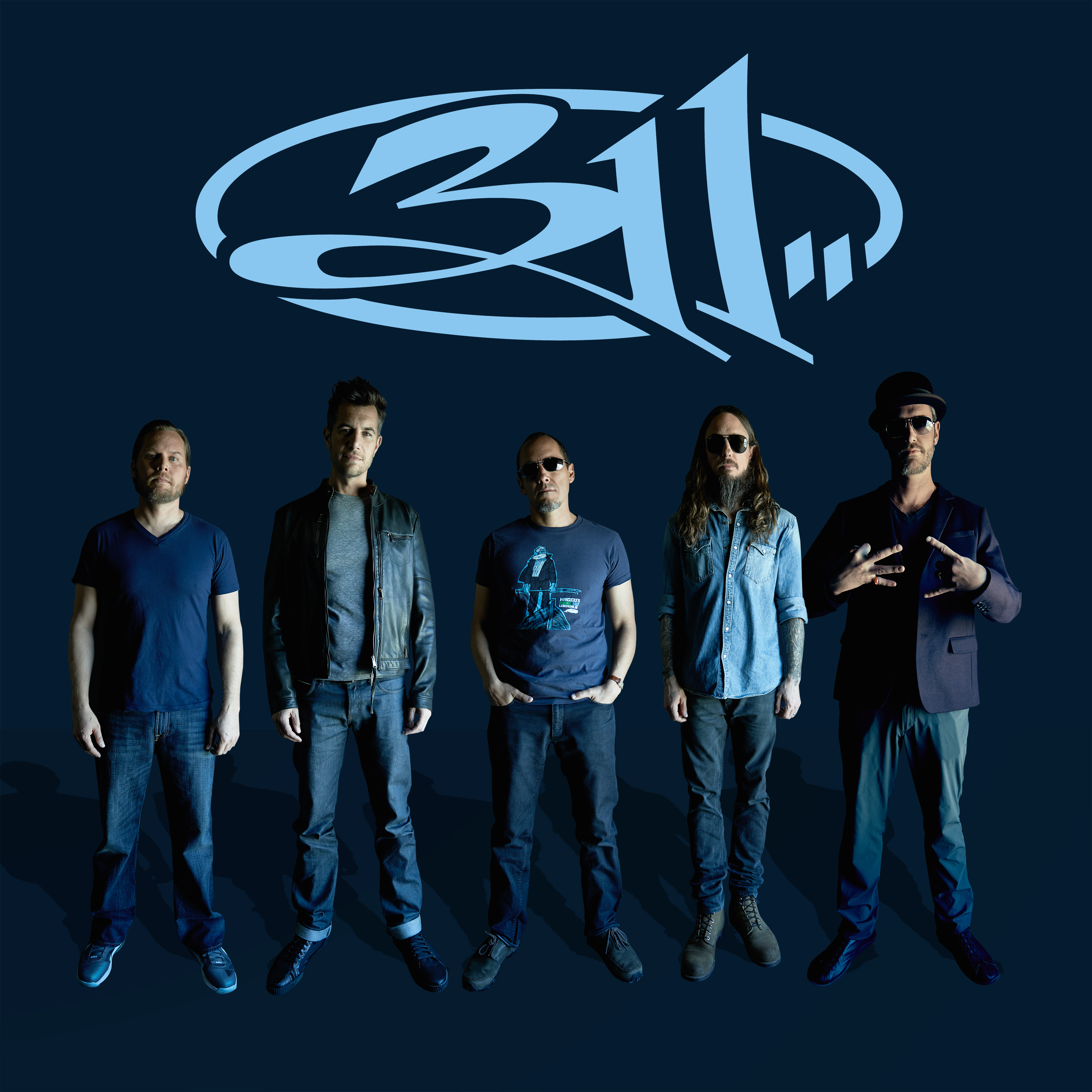 311 ON TOUR
PLUS, NEW ALBUM 'MOSAIC' NOW AVIALABLE ON BMG
FEATURES "TOO MUCH TO THINK"
NATIONAL HEADLINING TOUR UNDERWAY NOW
The album cover artwork for MOSAIC is made up of 10,000 photos submitted by fans.
A high-resolution pan & zoom mosaic of the cover image can be viewed now at www.311AlbumArt.com
July 18, 2017
Cover Photo: (L-R): 311 singer/DJ S.A. MARTINEZ, drummer CHAD SEXTON,singer/guitarist NICK HEXUM, bassist P-NUT, guitarist TIM MAHONEY.
311 fans love nothing more than a lot of music from their favorite band. The multi-platinum group deliver 17 songs on their new album MOSAIC, released on June 23rd, 2017 on BMG. 311 has already started their extensive U.S. summer headlining tour.
For MOSAIC, 311 worked with producer John Feldmann (Blink-182, Panic! At The Disco) as well as Scotch Ralston (who produced the group's iconic Transistor, Soundsystem and Stereolithic albums). On the album singer/guitarist NICK HEXUM, guitarist TIM MAHONEY, bassist P-NUT drummer CHAD SEXTON and singer/DJ S.A. MARTINEZ dive into a variety of styles, flexing their collective musical muscle honed from playing together for almost three decades. There's the current single "Too Much To Think," of which Nick Hexum states, "Musically, it starts out with a signature 311 guitar riff. The unique thing about this arrangement is that the chorus is so sparse. Usually, the chorus is the biggest part of the song. The first time you hear 'I wanna get high, but you're keeping me low' it's just voice and very sparse reggae guitar and bass. Then it kicks in. The song's been described as an earworm. It sticks in your head."
Other songs include "'Til The City's On Fire," a track inspired by the latest production techniques coming out of Jamaica & the EDM scene; the rocking "Perfect Mistake" with an opening rap from S.A. Martinez that sets a fiery tone; "Too Late" highlights some of the heaviest and most dissonant riffs Hexum and Mahoney have ever churned out; and "Places That The Mind Goes," an achingly beautiful love song that is by no means sweet.
In support of MOSAIC, 311, launched their headlining tour of North America on June 22nd, 2017 at Hard Rock Live in Cleveland. Unity Tour 2017 marks the group's 18th consecutive summer headlining the U.S. The outing features special guests New Politics plus The Skints and Passafire (on select shows). 311 will also make headline appearances at several festivals and radio events. For more on the tour dates: http://www.311.com/shows.
Order MOSAIC here:
The track listing for MOSAIC is:
Too Much to Think
Wildfire
The Night is Young
Island Sun
Perfect Mistake
Extension
Inside Our Home
'Til the City's on Fire
Too Late
Hey Yo
Places That the Mind Goes
Face in the Wind
Forever Now
Days of '88
One and the Same
Syntax Error
On a Roll
MORE INFO ON 311:
Website: www.311.com
Facebook: https://www.facebook.com/official311
Twitter: https://twitter.com/311?lang=en
Instagram: https://www.instagram.com/311/?hl=en
Catch 311 on tour this summer in the following cities

311 – 2017 REMAINING SUMMER TOUR DATES:
DATE LOCATION VENUE
7/19 Glen Allen, VA Innsbrook After Hours
7/21 Philadelphia, PA Penns Landing at Festival Pier
7/22 Hartford, CT CT Convention Center
7/24 Washington, D.C. Fillmore Silver Spring
7/25 Washington, D.C. Fillmore Silver Spring
7/26 Charlotte, NC Metro Credit Union Amphitheater
7/28 Atlanta, GA Tabernacle
7/29 Atlanta, GA Tabernacle
7/30 Myrtle Beach, SC House of Blues
8/1 Boca Raton, FL Sunset Cove Amphitheater
8/2 St Augustine, FL St Augustine Amphitheater
8/4 New Orleans, LA Bold Sphere Amphitheater
8/5 Houston, TX Revention Music Center
8/6 New Braunfels, TX Whitewater Amp
8/8 Dallas, TX Southside Ballroom
8/10 Albuquerque, NM Sandia Casino
8/11 Denver, CO Levitt Pavilion
8/12 Salt Lake City, UT USANA Amphitheater
8/14 Boise, ID Revolution Concert House
8/15 Eugene, OR Cuthbert Amphitheater
8/16 San Jose, CA City National Civic
8/18 Las Vegas, NV Mandalay Bay Beach
8/19 Los Angeles, CA Hollywood Palladium
8/20 San Diego, CA Cal Coast Credit Union OAT
9/1 Virginia Beach, VA American Music Festival
Facebook Comments